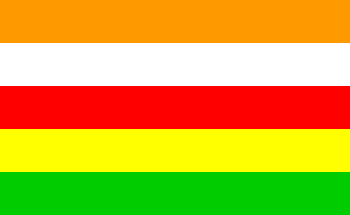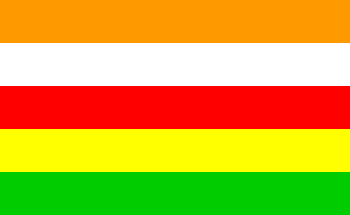 Home | Registrations | Search | Know Marwad | News | Message Board | Personality | Fun | Matrimonial | E-Greetings | Anniversaries | Photo Feature | Marwad's Websites | Contact
>>>>> Online Shop Guide of Marwadi (Rajasthani) Products<<<<<
Absolutely astounding and unique in concept, colour and workmanship, the art and handicrafts of Rajasthan are beyond comparison. Be it jewellery, painting, furniture, leatherware, pottery, metalcraft or hand-printed textiles, each object has a penetrating and irresistible appeal. An ethnic aura envelopes even the simplest of forms, making each one truly a collector's delight.

Rajasthan, popularly known as the 'treasure trove of Indian handicrafts' and 'shoppers' paradise', has been able to preserve its craft despite several ups and downs. Its rich heritage has played an important role in the economy of the state. The glittering jewellery and attractive handicrafts of Rajasthan have caught the fantasy of the people abroad and earned rich dividends.

JEWELLERY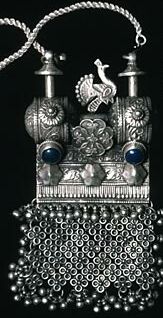 The artistic delicacy and elaborateness in the manufacturing of Rajasthani jewellery made of purest and finest materials is world-renowned. Rajasthan became famous for its jewellery industry from very early times, being an important source of precious and semi precious stones. Sophisticated jewellery, set with precious stones using the 'Kundankari' technique, or decorated with bright enamel work, known as 'minakari', were made for the Rajput courtiers and affluent people. Skillful artisans from Lahore, Delhi, Gujarat, and Bengal, attracted by the liberal patronage of the kings, came to work in Jodhpur. Jaipur is the centre for gold 'kundan' work and a renowned centre for diamond and emerald cutting. The temple market at Nathdwara is the best place to buy silver 'kundan' and 'meenakari' work

Old silver jewellery, which is much in vogue, can be bought in Jaisalmer in every nook and corner of the small bazaar area. Pratapgarh in Chittaurgarh district is famous for 'thewa' jewellery .The red, green, or blue foil below highlights the intricate gold work in the best possible manner.

METALWARE
Indian craftsmen have always shown an exceptional skill in engraving, chasing and ornamenting of gold and silver articles of everyday and decorative use. The metalware of Rajasthan comprises artistic brass work, enameled, engraved and filigree cut work on silver. The Jaipuri-engravers have mastered the medium of engraving on metal. Lacquered and engraved brassware comes in an amazing variety of articles: hanging lamps, boxes, bowls, picture frames, and plates. Traditional designs are used in different techniques such as hammered, chased or embossed and the motifs are of flowers, hunting scenes and landscapes.

In Jaipur, the engraving is done in three styles namely, (a) 'Marori' work- minutely lacquered designs covering the entire surface, (b) 'chikan'- floral ornamentation standing out vividly against a chased and lacquered background and (c) 'bichi' - a delicate pattern of flowers and leaves, on a lacquered surface.

Traditional silver articles like 'handas' or water containers, spice bottles, baskets and trays are popular worldover - white metal articles too, command sizeable exports. Water carrier, 'badla', made of zinc, a speciality of Jodhpur, is one of the flourishing industries of Rajasthan. 'Badlas', usually round, semi-circular or rectangular are sometimes fitted with ice chambers and taps. In 'Koftagari' or damascening work, mostly practised in Alwar and Jaipur, one metal is encrusted into another in the form of wire. Popular articles are swords, daggers and shields.

POTTERY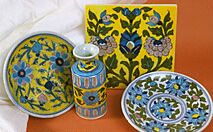 Pottery, one of the old crafts, has its own standing tradition in Rajasthan. Certain shapes are characteristic of Rajasthan. Alwar has been known for its double cutwork pottery known as "kagzi". It is made of a thin layer of clay and needs a high degree of skill. Purely decorative, the pottery of Bikaner uses lac colours embellished with gold to give a glittering finish. Possibly the only pottery in the world that is made without using clay, Blue Pottery of Jaipur is unique in appearance. The art of glazed pottery came to India through Persia. The materials used are Multani clay or 'fuller's earth', quartz, raw glaze, and sodium sulphate. The best pieces are hand painted with conventional floral or arabesque patterns and sometimes with figures of animals. Besides traditional articles like 'surahis', pots and cylindrical jars, other items include ashtrays, tiles, flower pots, lamp stands, beads, ear rings, soap cases, jugs, mugs and door knobs.


PAINTINGS
Paintings of Rajasthan- miniature and folk are known all over the world for treatment and composition, colour scheme and subjecting. The purpose of Rajasthani paintings is pleasure. Hence, women have been given prominence in all the artists' creations. Folk paintings have also developed side by side. Use of vibrant colours, bold lines, two dimensional treatment of figures and entire composition distributed in compartments are some of the unique features of these paintings, popularly known as 'phad' paintings.

'Mandana' is a folk craft of decoration of houses, which is quite popular in rural areas. Mandanas indicate seasons with the vegetable designs depicting Diwali with the 'bali' of barley and Holi with the raw mango. Sanjhi figure is made during the Dussehra festival.

LEATHER WORK


The use of leather in Rajasthan is very old. The beautifully designed leather shoes are well known items in the world market. Leather is embroidered, punched, studded and stitched in various eye-catching designs. The best known centres of traditional footwear are Jaipur and Jodhpur.

Decorative saddles for horses are prepared in Bikaner, Jaipur and Jaisalmer. A special type of water bottle called 'kopi' is made from camel hide.

CARPET AND NAMDAS
The Rajasthani carpet is but a true expression of the workers' simple philosophy, his sensitive perception of nature and its changing moods convincingly translated into the craft. The colour combinations are lovely and worksmanship exquisite. It is a treasure that lasts a lifetime. From Bikaner and Tonk come also the gaily-patterned, felt 'numdahs' or small rugs. A Durree is a cool, light rug. Rajasthani durries are smooth and closely woven. Pastel shades and a sparse use of geometrical and vegetable motifs are popular. Jaipur is a thriving centre for carpets and durrees today.

IVORY CARVING
Among the most intricate and painstaking crafts is ivory carving. Under regal partronage, the most delicate art of ivory carving flourished, in the princely capitals of Rajasthan; Bharatpur, Udaipur, Jaipur and Jodhpur. The art is still alive in the delicate ivory figurines of gods and goddesses, minutely carved and perfectly proportioned. Jali-work of lace like intricacy is testimony to the ivory carvers, fine eye and unerring hand. Animal figures, birds, fish trays and paper knives and a host of other decorative objects are carved with utmost artistry and craftsmanship.


STONE CARVING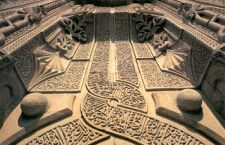 Rajasthan is not merely famous for the valorous deeds and heroic sacrifices of its warriors but also for its splendid architectural monuments made of stone. Temples, forts and palaces are glorious achievements of the craftsmen that have few rivals.

Jaipur is the centre of marble carving in Rajasthan. Here artisans create marble images of the deities as well as domestic utensils such as bowls for grinding spices and kneading dough. At centres such as Ajmer, Udaipur, Jodhpur, Bikaner and Jaipur can be seen very fine examples of 'jali' or lattice, worked on screens and panels in the palaces of these cities.

BLOCK PRINTING
Close to Jaipur is the small township of Sanganer, the name synonymous today with the finest block printed cottons. Some of the 'Sanganeri chipas' have moved to Jaipur and their colourful printed creations are widely available.

Block printing is a finely developed art in other parts of Rajasthan too. While the 'Bagru' prints are famous for floral designs in dark vegetable colours, the 'Barmer' prints are known for their bold geometric patterns, called 'AJRAKH'.

A special process of tie-and dye creates the stylized wave pattern, or 'laharia', symbolizing water or the monsoon rain. Turbans and 'odhnis' with 'laharia' patterns are generally used on festive occasions, especially Teej.

Bandhani is a complicated and skilled work of ornamenting the cloth with combination of colours. Jaipur and Jodhpur, the main centres of this speciality have produced many bandhej workers who excel in their jobs.

The traditional handicrafts of Rajasthan survived and developed because they were regarded as material symbols of Rajasthan's unique cultural ethos. With the initiative of the government, these crafts were survived with the setting up of the All India Handicrafts Board at New Delhi and the Rajasthan Small Scale Industries Corporation at Jaipur. Almost every craft is practiced and marketed in Rajasthan and the tradition has been so nurtured by the craftsmen that their products win the acclaim and appreciation from all.