>>>>>Click here for Our Current Month Personality.<<<<<
In this section of our web site we will inroduce you to All Past Personalities of the Month which featured on this site.

Current Month We Features :H.H. Maharaja Gajsinghji Of Jodhpur.
The present Maharaja of Jodhpur. His highness Popularly known as Bapji.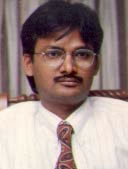 Last Month We Featured : Shri Uttamji Agarwal.
The present Chairman of Western Indian Regional Council of Institue Of
Chartered Accountants Of India. He is one of the youngst chairman.